I owned a '61 Ranchero first, then a '63 Futura convertible. I had to sell the convertible about 16 years ago to pay for home repairs. I've regretted the decision ever since and vowed to get another one someday.
Since I retired I haven't thought about it until I saw one for sale on eBay.com. My computer stalled right at the end of the auction as I was in a bidding war with someone. I was really upset (just ask my wife) so I started looking on the web for one. I looked at several pictures and talked to several people that had one for sale. I bought a Hemmings Motor News and saw an ad for this Sprint.
I hadn't thought about a Sprint because I figured they would be very hard to find. But it was what I had always dreamed about and it turned out to be red on red which was the right color. I called the man in California and he sent me these pictures.
I had never bought a car without seeing it before so I was very apprehensive. I did a search on the web using the web yellow pages and looked up classic car restorers near him and found a very helpful man (Jerry Olmsted of Hilltop Classics) who agreed to look at the car for me. He gave me a very good review so I worked out a price with the owner. He was great doing business with.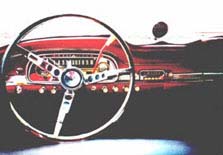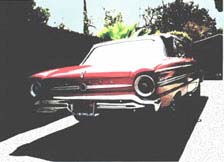 I then got quotes from several car transporters (again by searching the web) and decided because of the distance (I live in Georgia) it would be safer to use an enclosed carrier even though the cost was much higher than an open carrier.
I now have it and it's everything that was promised. I plan on keeping it stock. It needs a few things done; dash pad is the biggest. The engine is beautiful and runs like new. I'm going to do some detailing and enter it in some shows to see how it does against others.