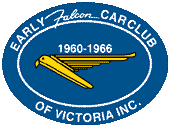 Secretary:
Early Falcon Car Club of Victoria Inc.
PO Box 2118 Lygon St North Post Office
Brunswick EastVictoria 3057 Australia

Are you tired of sitting at home alone on a Falcon bench seat?
Feel like a change of gear?
Looking for others to twiddle your knobs with?
Haven't got one, but just dying to get one?
Join now! The benefits are endless!
Just print out this form and mail to the address above.
Our meetings are held on the first Wednesday of the month
at the Keilor Hotel, 670 Old Calder Highway, Keilor, 8pm.