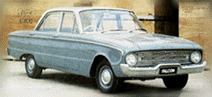 The first of the Australian Falcons hit the streets in September 1960.
Over the next few decades, this was to mean the end of Holden's hold over the Australian market.

Although there was great interest in the XK when it was first released, popularity waned as it became apparent that a car successful in the States was not necessarily suitable for Australian roads.
The suspension couldn't handle on our rougher roads

The tyres and engine capacity (140 cubic inch) were too small

many complained about the clutch in the manual Falcon being too rough
The XK falcon models were standard, deluxe sedans, utilities, vans and station wagons.
The XK was produced for 23 months and numbers sold were 68, 465.